Bulls To Bears Trading: Think Like A Bear. Trade Like A Bull.
Stock Signals | Stock Alerts | Stock And Options Trading
Bulls To Bears Group Is A Global Leader In Education For Traders and Investors.

Founded in 2003, BullsToBears.com is an innovative stock and options trading program that provides winning stock alerts, stock signals and unbiased independent research information and analysis on publicly traded companies.

BullsToBears.com is very different from another stock alert services out there. Due to our vast knowledge and experience of the markets, we give you many unique competitive advantages to maximize your stock trading success.

1. What to Buy and when to Sell Alerts. Instant notifications of all actions that are taken for each stock from the opening of the position to the close. Includes Sell Orders for both profit taking and risk minimization.

2. All stock trading information is posted immediately on the active trading section of our website AND delivered directly to each subscriber's e-mail address.

3. You save time and money Eliminate all the frustrating hours of stock research and analysis. We perform in-depth stock analysis on all of our stock picks, before making our decision to buy or sell.

4. No need to sit in front of your computer all day long watching the stock market. We use Limit and Stop orders to enter and exit all trades.

5. Every Monday our Short Term Stock Picks and trade updates are posted between 10:30 AM and 11:59 AM (EST). This allows you to view our stock pick alerts, place the orders, and enjoy the rest of your day.

6. Eliminate some of the most frustrating (and costly) trader mistakes, such as over-trading, emotional trading, poor money management, ineffective market timing, etc., etc., etc...

7. Free Live Trade Offer Try before you buy. discover Bulls To Bears exclusive stock picks, winning strategies and insights for free. We do not require any payment details for the offer. Just fill out the Free Trade Trial form to begin!

Enjoy all these benefits and much more!!!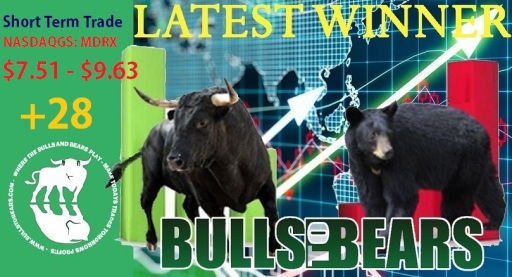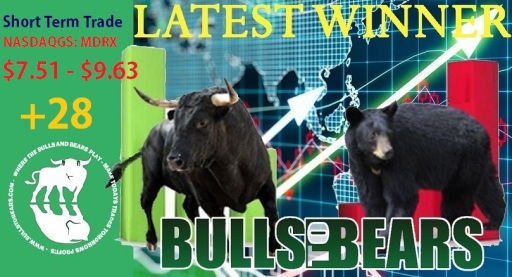 | | |
| --- | --- |
| Sunday | Closed |
| Monday | 09:00 - 18:00 |
| Tuesday | 09:00 - 18:00 |
| Wednesday | 09:00 - 18:00 |
| Thursday | 09:00 - 18:00 |
| Friday | 09:00 - 18:00 |
| Saturday | Closed |